Huron County offers many opportunities for you to improve your health and fitness. In addition to our many walking and hiking trails and coastal parks and beaches, there are a number of local businesses that offer opportunities for you to stretch your legs and get your heart pumping. No matter where you live, or vacation, chances are there is a place nearby.
Check out this list of fitness centers, dance studios, and yoga and pilates studios in Huron County.
Fitness Centers & Gyms
Bad Axe
Bad Axe Club Fitness
Location: 123 N. Port Crescent, Bad Axe
Phone: (989) 269-7398
Hours: Open 24 Hours for Members (Staffed Hours: 12 pm to 6 pm Monday through Friday)
Website: badaxeclubfitness.com
Here are a few current opportunities to help you improve your health at Bad Axe Club Fitness:
12 month gym membership for $29.99 a month; a 12 month gym membership plus unlimited massage chair for $34.99 a month; and a 12 month gym membership plus unlimited massage chair and unlimited tanning for $44.99 a month.
Fitness class sessions. This January, we have 6-7 different classes in the session. They run for 10 weeks, and each class has a different calendar.

Brand new to Bad Axe Club Fitness, we are now proud partners with SilverSneakers!

SilverSneakers is a health and wellness program created to benefit older adults. There are more than 14.5 million adults who are eligible for the SilverSneakers benefit program through the nations leading Medicare Advantage health plans.

For those adults that are 65 years older and eligible, SilverSneakers is available to its members at NO COST! This means free gym membership and classes. Stop in & we can check to find out if you are SilverSneakers eligible!
Want to learn more about Bad Axe Club Fitness? You're welcome to swing by and get a tour of the facilities or talk with one of their instructors in person.
Complete Fitness
Location: 123 Scott Street, Bad Axe
Phone: (989) 269-6563 or (989) 550-0377
Hours: Members have access 5 am to 10 pm, 7 days a week
Website: completefitnessbadaxe.com
Complete Fitness offers a variety of fitness machines and weights including: cardio, elliptical, machine weights, free weights, treadmills, steppers, climbers, cycles, and cross trainers. To learn more about the fitness center and to start a membership, call.
Harbor Beach
Fitness Center at Harbor Beach Community School
Location: 402 S. 5th Street, Harbor Beach (Fitness center is located in the southeast wing of the high school)
Phone: (989) 479-3261
Hours: Open 3:00 pm to 8 pm
Website: hbpirates.org
Although Harbor Beach doesn't currently have a 24 hour fitness center, the fitness center at the school offers an excellent workout experience. There are treadmills, an elliptical machine, bikes, free weights, and a number of other controlled weight machines available to use. Another great feature of the Harbor Beach Fitness Center is the indoor walking/running track. For personal training and fitness nutrition consultations, contact Stefani Schelke at Revive Personal Training.
Pigeon
Sandy Shores Wellness Center
Location: 7925 Crescent Beach Road, Pigeon
Phone: (989) 856-3004
Hours: Monday to Friday 6 am to 8 pm; Saturday 7 am to 12 pm; Sunday 12 pm to 4 pm
Website: scheurer.org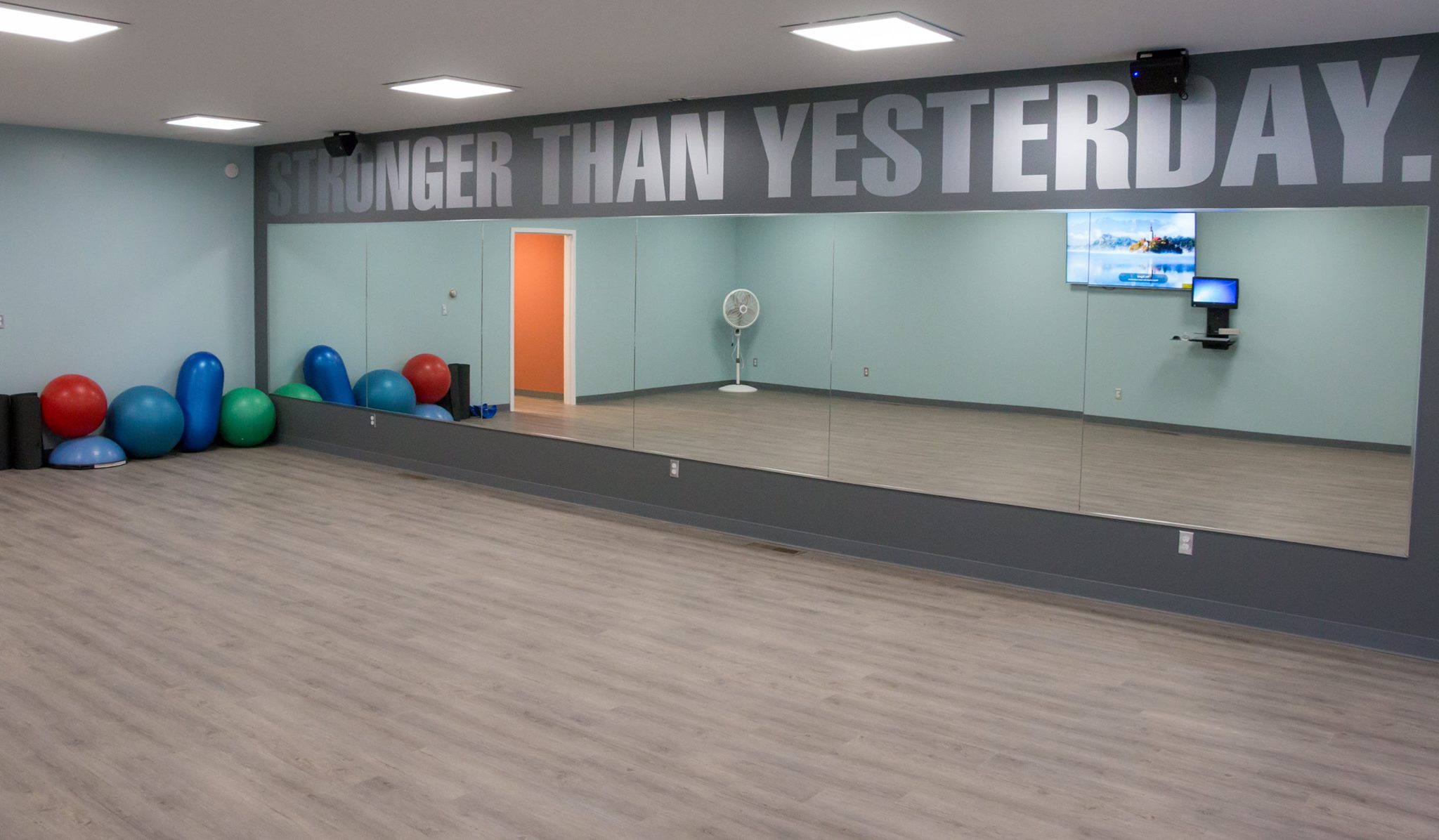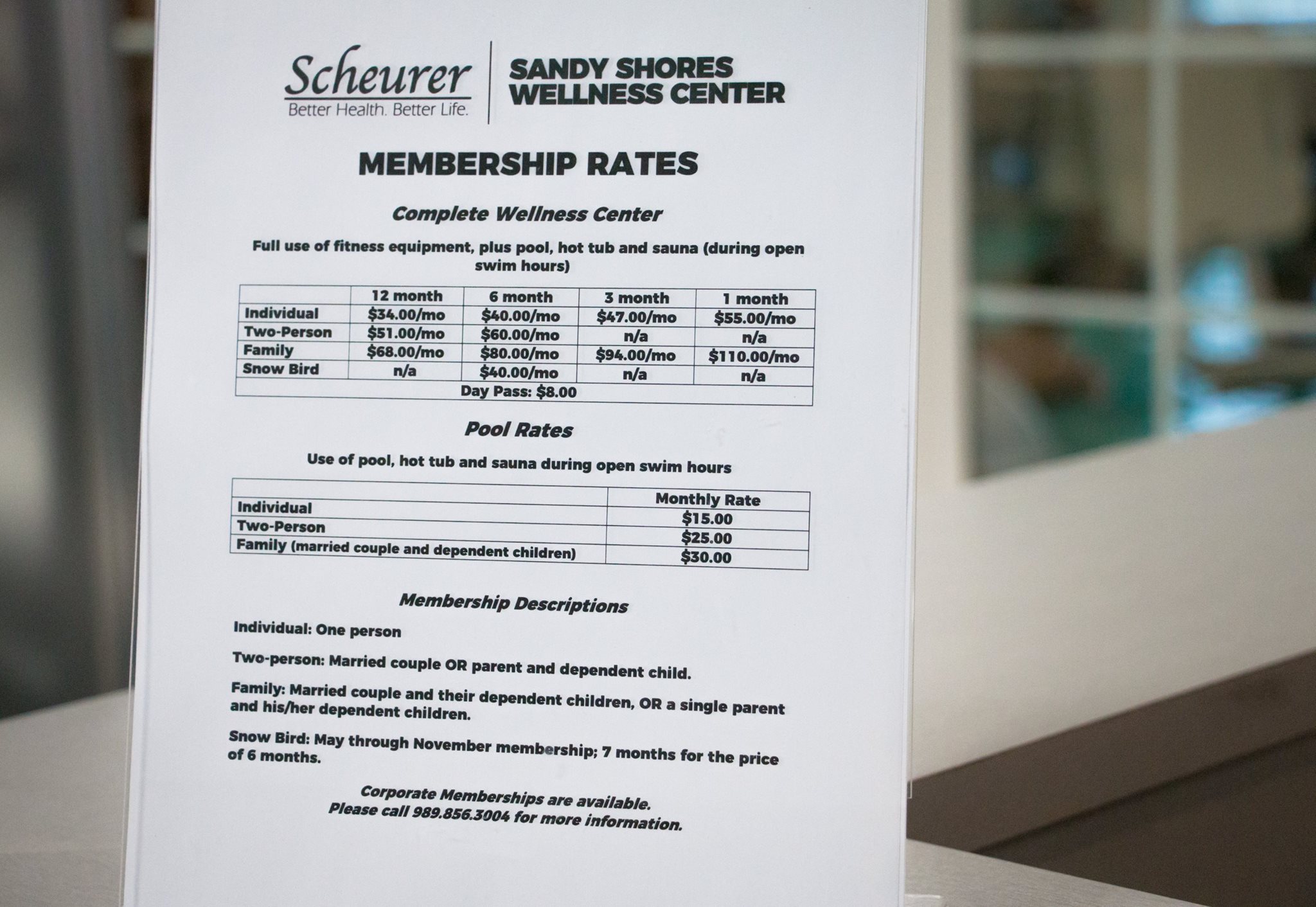 Sandy Shores has recently been renovated and now offers a wide range of fitness equipment, group fitness classes, and a heated, public pool as well as a sauna and hot tub. The fitness center is fully staffed to help you meet your fitness goals. Currently, they offer a wide range of group classes. See below for details.
Pilates - Mondays from 5:30 pm to 6:15 pm; Cost is $5
Low Intensity Water Aerobics - Mondays & Wednesdays from 9 am to 10 am; Cost is $6
Senior Strength - Tuesdays from 10 am to 10:45 am; Cost is $5
High Intensity Water Aerobics - Tuesdays & Thursdays from 9 am to 9:45 am; Cost is $5
Tabata - Wednesdays from 6 pm to 7 pm; Cost is $6
High Cardio Dance - Thursdays from 6 pm to 7 pm; Cost is $6
Stick Stretch - Thursdays from 10 am to 10:45 am; Cost is $5
Yoga - Saturdays (no class January 27th) from 8 am to 9 pm; Cost is $6
Port Austin
Anchor Fitness Center
Location: 8265 N. Van Dyke Rd, Suite 3, Port Austin
Phone: (989) 738-6425
Hours:
Website: anchorfitness247.com
Anchor Fitness Center is a new workout & fitness center in Port Austin located a 1/2 mile south of Port Austin on M-53 next to Schillinger & Schillinger Insurance. Members have access 24 hours a day, 7 days a week with paid membership. Vacationers and visitors are welcome!
Outdoor Fitness Park at Veterans Waterfront Park
Location: 98-158 W Spring St, Port Austin
For those who'd like an outdoor fitness experience, the Outdoor Fitness Park at Veterans Waterfront Park in Port Austin will be a great alternative to the indoor gym scene. New fitness equipment and durable outdoor workout stations will be added this spring and summer. Visit portaustinarea.com for more information.
Sebewaing
Sebewaing Health Center
Location: 618 Unionville Road
Phone: (989) 883-2617
Hours: Monday - Thursday from 4 pm to 8 pm and Friday from 1 pm to 4 pm; see below for more details
Sebewaing Health Center is an extension of Scheurer Healthcare Network and offers a fitness center in addition to other medical services. Members of the community are welcome to utilize the facility during the fitness center hours. October through April the fitness center is open Monday through Thursday from 4pm to 8pm and Friday 1pm to 4pm. For additional hours throughout the year, click here. The center has elliptical machines, treadmills, exercise bikes, multi-weight unit, rowing machine, stepper, total gym, stepper, and upper body cycle.
Ubly
Ubly Family Fitness
Location: 2201 Main Street, Ubly
Phone: (989) 658-8510
Hours: 24 hour access for members; Sign-up 8:30 am to 4:30 pm at Laurie Messing CPA
Website: ublyfamilyfitness.com
Ubly Family Fitness offers a variety of options to help you get fit and healthy. Their facility includes treadmills, ellipticals, bikes, and rowing equipment in addition to strength training devices such as a chest press, leg lift, leg curl, bicep curl, and tricep extension as well as free weights. Beyond this, Ubly Family Fitness offers an infrared sauna, tanner, and fitness classes are offered by Sarah Franzel.
Sherry's Dance & Gymnastics Studio
Sherry's Dance & Gymnastics Studio offers two locations and a variety of different dance and gymnastics classes for kids and people of all ages. Classes tend to run from September through April and end with an optional recital. All skill levels are welcome to participate!
Step It Up Dance Studio
Location: 281 E Huron Ave, Bad Axe & P.O. Box 574, Pigeon
Phone: (989) 225-2173
Website: stepitupstudio.net
Step It Up Dance Studio offers two locations and a variety dance classes as well as tumbling. There's a class for everyone and every skill level.
Yoga & Pilates
Bad Axe
Pure Yoga Fit
Location: 216 E Woodworth, Bad Axe
Phone: (989) 574-5746
Website: pureyogafit.net
Pure Yoga Fit offers both beginner and intermediate yoga and pilates classes for everyone. The studio is located in the First United Methodist Church of Bad Axe and their community based instructors will come to you!
Pigeon
Bendz Yoga Studio
Location: 7335 Michigan Avenue, Pigeon
Phone: (989) 977-0137
Bendz Yoga Studio offers a number of yoga classes for all skill levels and will provide private and semi-private classes also.
Port Austin
Pilates Revolution
Pilates Revolution in Port Austin offers pilates and yoga classes in addition to other services for all skill levels.
Thanks for reading!
If you know of another opportunity for people to get fit in Huron County, please feel free to email us at info@huroncounty.com and we can see about adding it to the article.