People gathered from all corners of the county to celebrate another year of generosity in the Thumb last Thursday at the Huron County Community Foundation's Annual Meeting. Held at the newly renovated DTE Discovery Center in the building formerly known as Norman's, the foundation brought together residents and organizations to announce their 2017 grant recipients and celebrate another successful year of making an impact in Huron County.
Upon entering the Discovery Center, the room was bustling with conversations and happy greetings. Instead of signing a guest book, large pieces of paper with "I love Huron County because" printed on them were handed out for guests to fill in and a photo was taken. Looking at all the guest's statements is a great reminder of why Huron County is an incredible place to live, work, and play.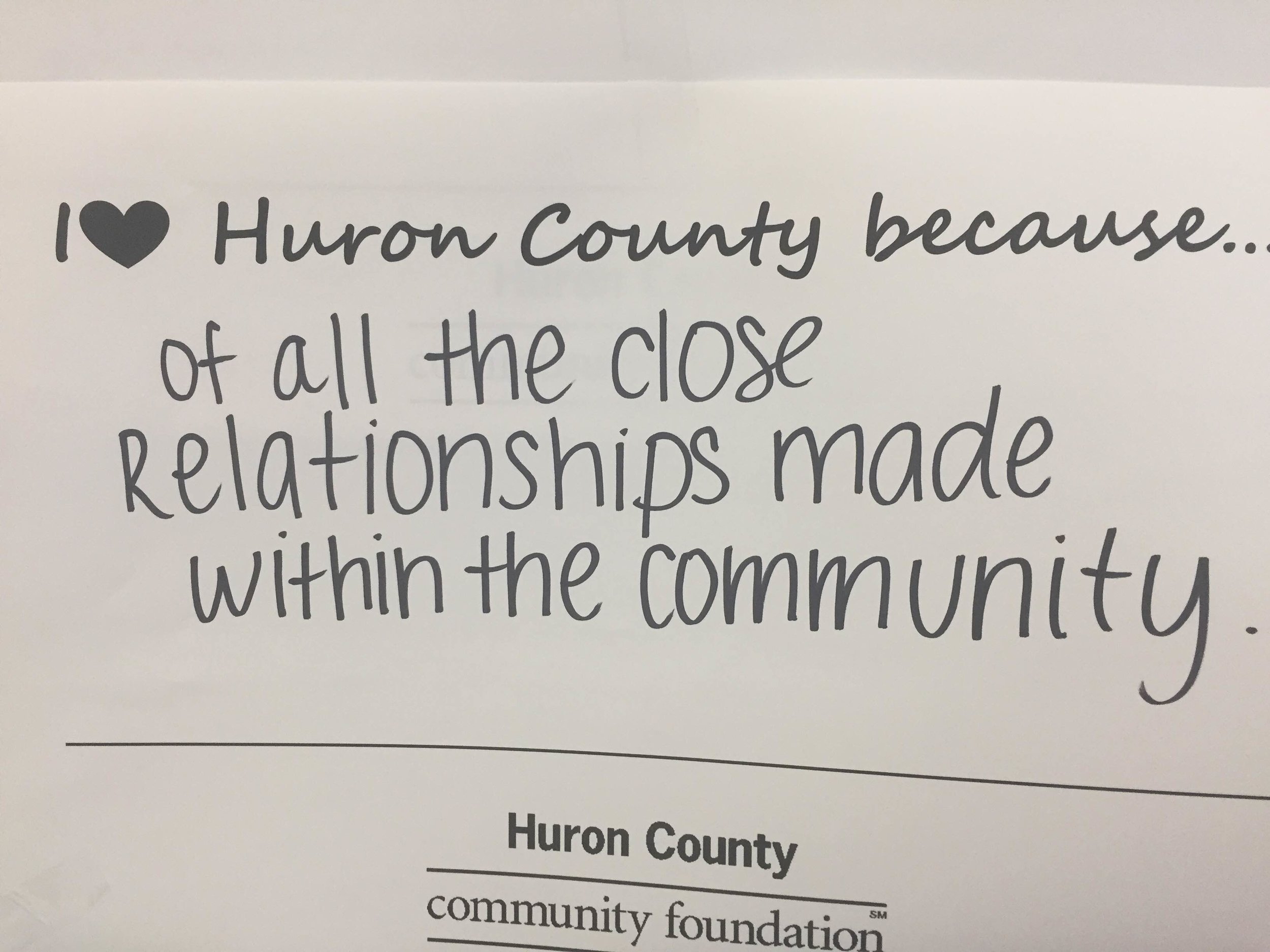 Once the light refreshments had been served and the last few guests arrived, Michael Sage, the Marketing Program Manager for DTE Energy, started the evening off with a warm introduction and briefly spoke about the new facility and some of the programs and activities being offered in the space. The programs focus on renewable energy education and STEM related activities. If you have not had a chance to check out the new DTE Learning Center, it is certainly an impressive space. Equipped with a 180-degree theatre, state-of-the-art multi-media capabilities, and a dedicated meeting area, the new Discovery Center offers the community a great place to meet and learn about all that renewable energy has to offer.
Huron County Community Foundation's Executive Director, Mackenzie Price, initiated the event of the evening, by recognizing and thanking the foundation's sponsors, fund representatives and donors, volunteers, the board of trustees, and the community at large for their dedication and generosity in serving the Thumb. Before announcing this year's grant recipients, a short film was shown highlighting some of the foundation's valuable proponents. Moving into the most anticipated event of the evening, Mackenzie announced the 2017 HCCF grant winners. There were 12 grants awarded in varying amounts to benefit a number of causes and better our community. Some of the winners included Cross Lutheran School, Greater Port Austin Art & Placemaking, Community Connections, Huron Knights of Columbus, Harbor Beach Lighthouse Preservation Society, and the Food Bank of Eastern Michigan. For more information about the 2017 grant winners, click here.
2017 HCCF Grant Recipients
Cross Lutheran School - $500 for the Vex Robotics Club
Greater Port Austin Art and Placemaking Fund - $500 for public art projects in the Port Austin area
Huron County Senior Citizens Center - $525 for the Senior Free Produce program
Community Connections - $650 for a Multi-Generational Literacy Project
EPBP Laker School - $1,021.30 for the Girl Powered STEM and Robot Roundup II program
Huron Knights of Columbus - $1,100 for a Defibrillator for the Knights of Columbus Hall in Bad Axe
Harbor Beach Softball - $2,000 for Field Maintenance Equipment
Ubly Little League - $2,000 for the Ubly Little League Field Improvements
Friends of Grindstone City DNR - $2,1117.97 to the Grindstone Harbor Improvement
Jr. Priscilla Club - $2,135.04 for the Fit Park for Port Austin
Food Bank of Eastern Michigan - $2,400 for the Laker Elementary Backpack Program
Harbor Beach Lighthouse Preservation Society Inc. - $2,500 for the Harbor Beach Lighthouse Painting Project
The HCCF 2017 Annual Meeting was an excellent reminder that there is a great force of people dedicating their time, talent, and treasure to help Huron County prosper and thrive. You don't have to wait until next year's annual meeting to get involved with the Huron County Community Foundation or benefit from all the great things they're doing. You can learn more about the HCCF and the current opportunities available on the Huron County Community Foundation's website. Until next year, we look forward to another year of generosity and in the Thumb of Michigan.
New HCCF Grant Opportunity
In addition to announcing this year's grant recipients, a new grant was announced at the Annual Meeting last Thursday. This new "Back to School" grant is a special opportunity for teachers in Huron County to earn $500 for their classroom. Read more about this awesome opportunity below.